Introducing ODEO


(Optidge Digital Education Online)

Academy
The quickest way for uber-smart creatives to move into the fast- paced, fulfilling, and brain-tickling industry of Digital Marketing — without going back to school or giving up their job.
*ZERO digital or marketing background required
Graduate level skills - from the comfort of your home

Graded challenges, weekly
challenges, and an in-depth final
project – so you can land a real job
on completion.

Designed for applicants of all
levels of experience, academics
and knowledge.
Sounds Interesting?
It's more than interesting. It could be the exact thing you've been looking for to create the future you've dreamed of.
Before I didn't know anything about digital marketing. After ODEO, I realized I didn't need to be bored at work. Now I work in an Amazon business, love it and I earn double my salary!
I was working in medical billing, but was bored and so frained. I had so many strengths I wasn't using. I wasn't sure what field I wanted to go into. ODEO looked interesting, although I had zero knowledge of any anything. I wasn't sure if it was going to be too high of a level as I had no experience. Although I got engaged during ODEO, I still managed to complete the coursework. Andd that I enjoy working in business, and can make so much more money than in my current job. I applied to an Amazon business, I told them during my interview that I took the ODEO course and she right away was extremely interested as she had worked with Danny in the past.  I ended up taking the job and doubling my salary!!
ODEO changed my life. I love it. It's been so incredible.
I was a teacher, but it became too much for me. I was ready to move on. I had just had my second baby and realized I needed a remote job. I had no idea what to expect from ODEO, and I really enjoyed it so much. ODEO changed my life. I love it. It's been so incredible. I felt very confident to enter the job market, and am so excited to see where it takes me.
ODEO is the only online Graduate level course which gives you a
rock-solid entry point

into a new career - in just 15 weeks

Learn the fundamentals of Digital Marketing so you have the confidence and expertise to achieve results

Mastering a new skill can be lonely (and overwhelming). With ODEO, you'll be part of a vibrant online community where we'll cheer for each other and celebrate wins together.

Theory is nice, but digital marketing is about implementation. You'll be accountable to submit challenges to prove your mastery of the material, and build a brilliant portfolio so you can land a job
ODEO is run by Danny Gavin – a renowned educator who has taught and mentored hundreds of students, helping many of them transition successfully into the world of Digital Marketing with his mentorship, wisdom and support. Danny has one goal: for his students to succeed, and gives everything he can to ensure they do.
One of the perks of being part of ODEO is our special partnership with Acadium. Acadium is a digital platform that connects you, an aspiring digital marketer, with a vetted business owner that will teach you digital marketing through one-on-one mentorship, hands-on experience, and real-world projects for their business. Apprenticeships are 3-months long, completely remote, and always free for apprentices! Our Acadium representative Matt will help you create a strong profile and provide an intro to any mentor you may want to work with.

ODEO also has a special partnership with Careerly. Careerly is a talent matching service that looks to find tailor-made jobs for dynamic human beings through data and analysis based on high level aptitude testing, a longer list of preferences (for employers and employees), and their knowledge of current trends in the marketplace.
Even if you…
Know nothing about technology (just logging into Zoom is an achievement)
Are not that creative (but think out of the box)
Have no idea what digital marketing is (something to do with Google?)
Have never done an online course
Aren't great at Math
BUT you…
Love learning new skills, enjoy challenging yourself, and are an ambitious action-taker who wants to apply their mindask questions and apply your mind
Enjoy helping other people, can work hard when you put your mind to it and want a career which excites you
Have a reasonable grasp of numbers, enjoy solving problems and can think logically
Are a competent writer, have a creative streak, and want to use all your talents
Then ODEO is what
you have been looking for.
I'm the founder and chief strategist of award-winning Optidge Digital Marketing. I'm also an adjunct professor of digital marketing at University of Houston. As a lecturer, I've been privileged to teach and mentor hundreds of students. While many of them had no prior knowledge of digital marketing, the ones that excelled shared a similar profile.
They were talented, hardworking and strong in either (or both) creative and analytical skills. They doubted where (and if) they could find career fulfilment where they could flex their diverse (and seemingly contradictory) talents.
Many went onto work in the field – and in doing so came upon what they thought was impossible: a career where meaning, fulfilment and whole-brain expression was part of the package.
My passion for taking a highly advanced subject, and breaking it down into engaging and understandable pieces means that anyone can master the material if they invest themselves fully.
That's why I created the ODEO. track for women. Digital marketing offers a whole new range of options for women who are looking for a flexible, enjoyable and lucrative career. I've taken a high-level course (which you generally can only access at graduate level) so you too can confidently land a job in the world of digital marketing – and enjoy a meaningful, flexible and stimulating career – while being available for your family.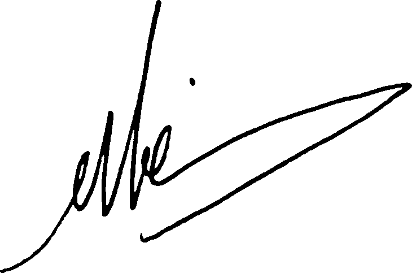 Some awards my agency and work have won: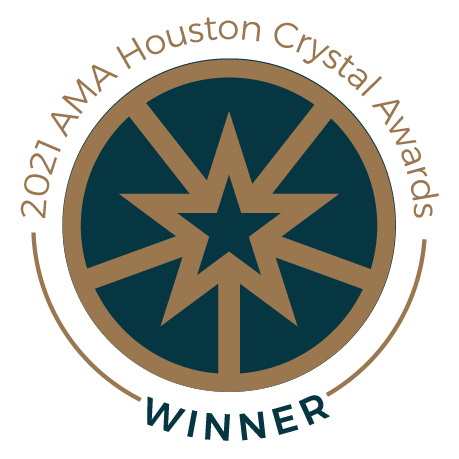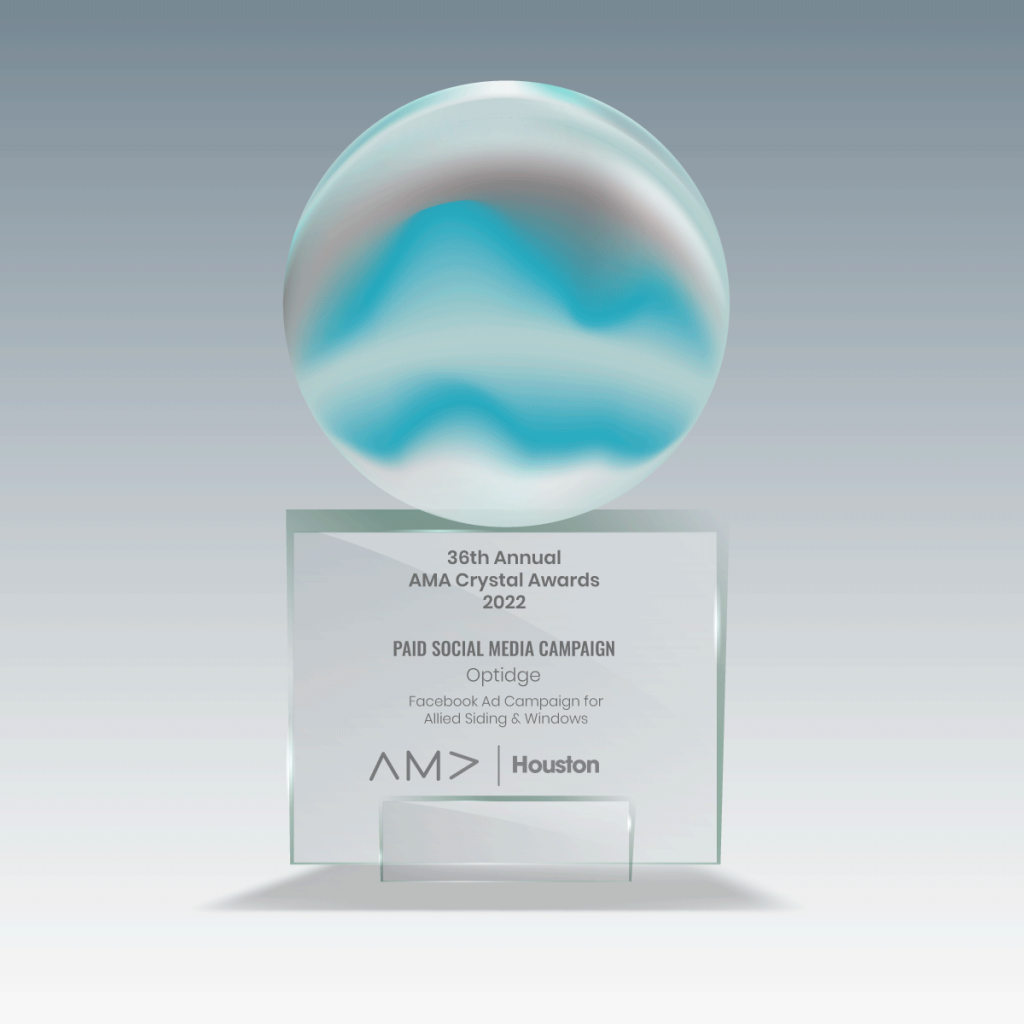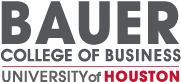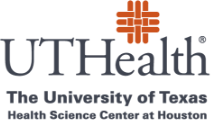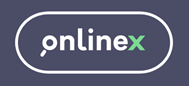 What my awesome + inspiring students say
Your class was super informative, entertaining and great for a lack of words 😉 Recently I was able to land a job because of all that you taught and can't be any more grateful!!!"
Danny presented the material in a way that was interesting and easy to understand, even when the material was more technical. I really enjoyed the labs (challenges) because the practical application helped to reinforce what we learned in lectures and gave me the opportunity to use many different tools."
Danny is a phenomenal teacher. He explained everything well, and it was really enjoyable. The information he gave is just so rich. I feel like I just learned a whole new world and how it works."
It was an amazing course. Danny is a great teacher.

I always want to learn about SEO. There's a lot to it. It was a bit overwhelming to a certain degree, but Dan broke it down. A lot of the information Dan gave opened my eyes and I really appreciate it."
Great practical experience that really helped the class concepts sink in. Danny's enthusiasm for the topics of the course is really motivating and makes the subject very interesting.
I've been to many classes in my life and the worst feeling is coming in and seeing that the instructor can't instruct, or doesn't instruct, or some other complaint you have about the teacher. In this case, there's absolutely none. Danny is great. I'm sure it showed and everybody appreciated his class. We really learned a lot."

ODEO graduates are crushing it in the real world.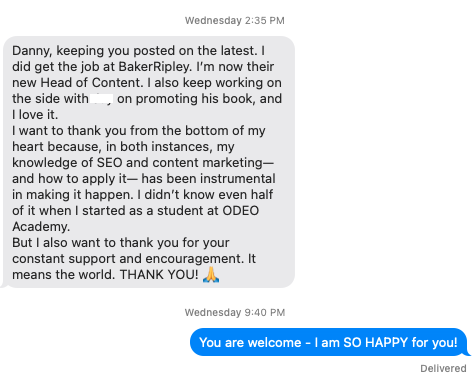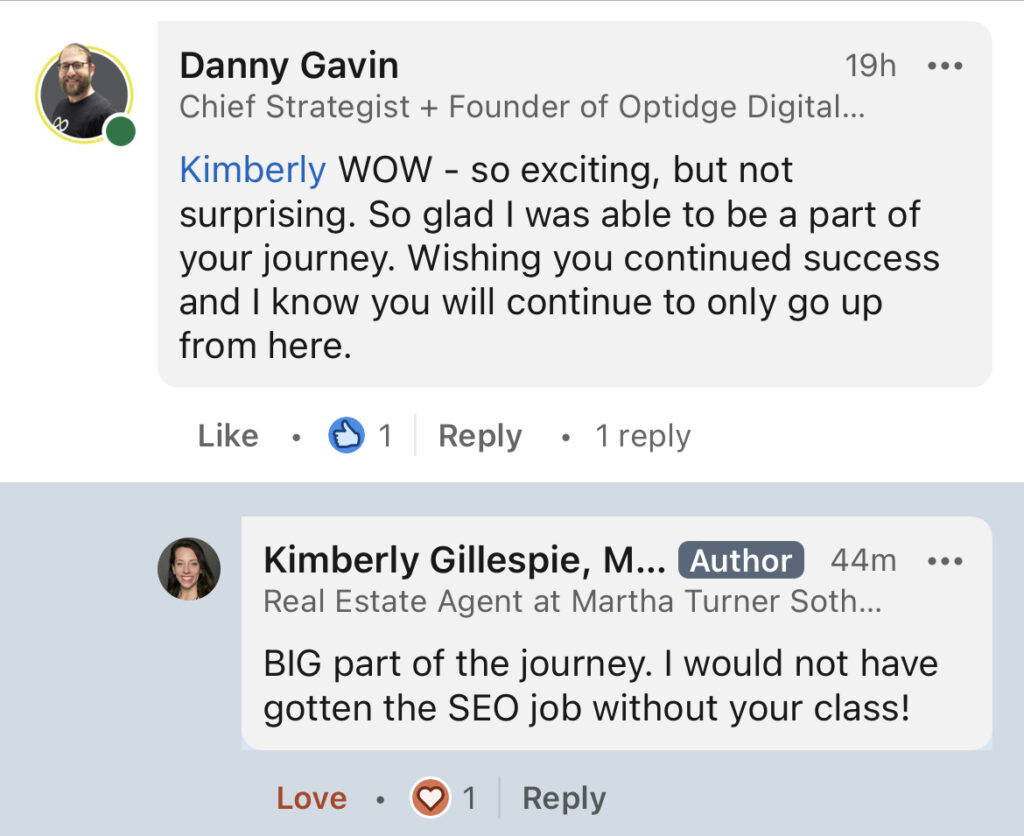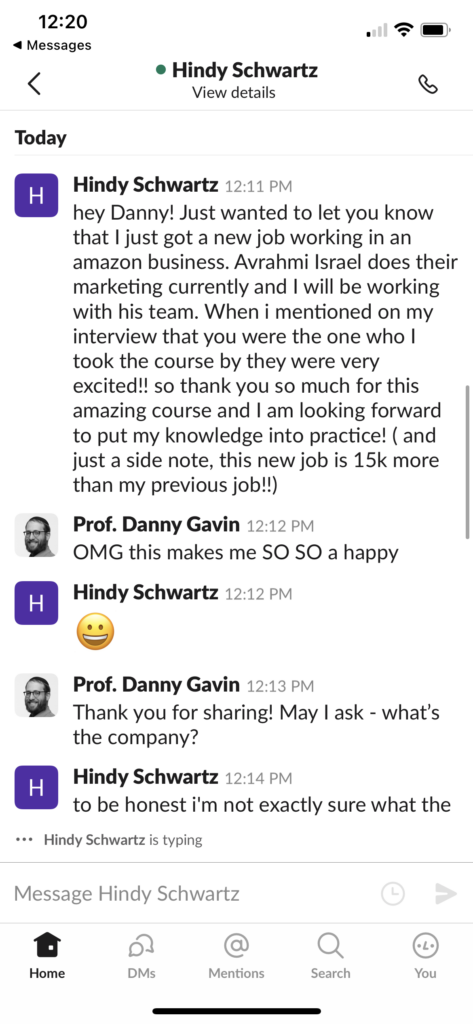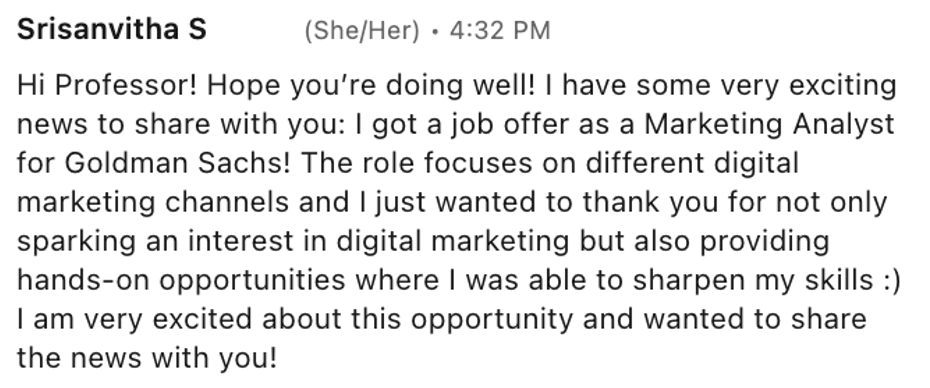 Here's where some of our grads are working now






Other ODEO grads have opened
their very own agencies. (Yes, for real.)
Before ODEO, I came home from work so drained. I wasn't using my talents. Now, I'm self-employed.
I was working for a bookkeeping company, doing the design and front-end work. I was stuck there, so I started working in my kids' daycare for a few years, but every day I came home so drained. I wasn't using my talents. I wanted something flexible. Since doing ODEO, I'm self-employed, and I do both website design, SEO, and marketing for clients. My goal is to work 25 hours a week and to earn double or triple what I was earning before, and I know it's possible.
Now, I've opened up my own agency doing SEO and digital marketing for other companies.
I have a background in teaching accounting. I was also helping my husband with his online businesses, but finding reliable digital marketers was always a challenge. So I would try to go into the backend and figure it out myself. I realized that website without digital marketing is useless, so I became a certified digital marketing specialist. That course was very thorough but very theoretical. I wanted something more practical and joined ODEO. ODEO is extremely practical and hands-on. You have weekly challenges and homework. The work is graded and commented on.  Now, I've opened up my own agency doing SEO and digital marketing for other companies. I hope to have much more free time in the future now that I'm my own boss.
ODEO offers you a winning combination of theory + hands-on skills + community


11 modules of engaging,
high-level content
Covers in depth the fundamentals of digital
marketing
11 hands-on weekly challenges graded by Danny and his team
Because DM is ALL about practical application
Ongoing support & cheering-for-you mentorship
Moderated exclusive Slack community to get all your questions answered with Rivki & Danny. Weekly live Q&As with Danny where you interact with class members.. So you don't have to do it alone. And you may even make friends for life
Where you consolidate all your knowledge, and can
use as a portfolio to land a job
So, what's it really like being part of ODEO?
It's pretty awesome. If you're looking for something challenging, stimulating and
'I-never-realized-I-was-so-capable' rewarding, that is.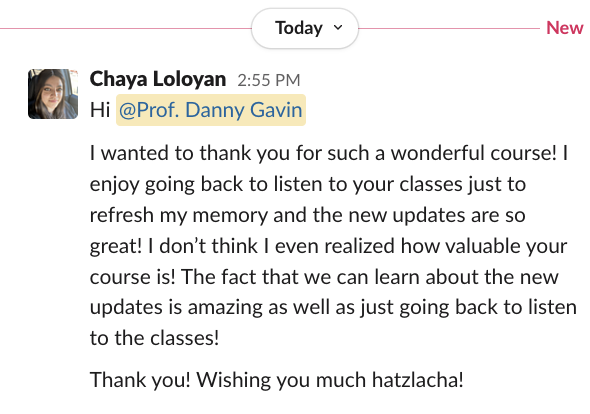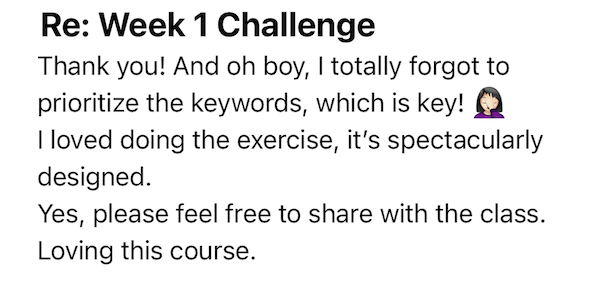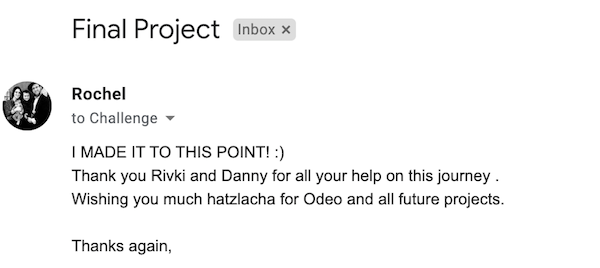 ODEO is the equivalent of a
Graduate Level program plus an internship:
Wondering if you've got what it takes to succeed at ODEO Academy?
Last cohort, we had single moms, single women, moms of young kids, a mom of 12 kids who all ACED it!! All
you need to succeed is determination, commitment & a willingness to apply your mind - so you can create the
future you dream of.

Danny, I love the sound of the course. But that's a chunk of cash to lay out for
something I don't know much about...
I don't enjoy it.
I can't find a job afterward
It's too hard for me and I fail
Smart lady you are. All great points.

I can't tell the future: but after teaching hundreds of students
digital marketing from scratch I can tell you this:
The students who excelled in the course no matter what background had one thing in common: they were willing to apply their minds, show up, and invest the time and effort to do the work. To master a brand new skill set in 15 weeks requires effort and commitment. Is it an intense 15 weeks? Yes. But in the grand scheme of life that's 15 weeks of hard work which promises you and your family a whole different future. The weeks will pass anyways, so why not buckle up and invest now in something that will change your life?
Digital marketing is one of the most in-demand and versatile skills out there. If you're able to buckle down and apply yourself, you will end up with a skillset that lets you do anything from writing, planning, and strategy, to problem-solving and working with people.
There is a 100% money-back guarantee within 14 days if you complete all the work so far. No questions asked.
Let's get real.
How much can you actually earn
as a digital marketer?
Hourly rate: The starting rate for junior digital marketers is $35/hour. But once you've got a few months of experience under your belt, it quickly moves up to $70 – $100/hour.


Annual salary: Starts anywhere from $45-$65K depending on experience and/or which state you live in, and has the potential to go as high as $250K-$350K for a VP or Chief Marketing Officer

SEO Introduction and Keyword Research
In Depth Keyword Research and Topic Plan

Uncovering and Optimizing On Page Factors

Uncovering Duplicate Content and Pillar Pages

Internal Linking and Content Marketing
Create a Customer Persona and combine module 1 – 3 to create the perfect, optimized content

External Links, Outreach, and Local SEO
Create a mini outreach campaign, perform a local SEO audit, and analyze a website's backlink portfolio

UTM Challenge or GA Account Analysis

Initial PPC Keyword Research

Applying Match Types and Writing Ads

Google Ads Search Certification

Audience Research or Ad Group Creation

Choose Your Own Path (or all 3)
1. SEO
Analysis of Bonus Content

Is that all? There's (way) more...
and access these value-popping
bonuses by hotshot industry experts!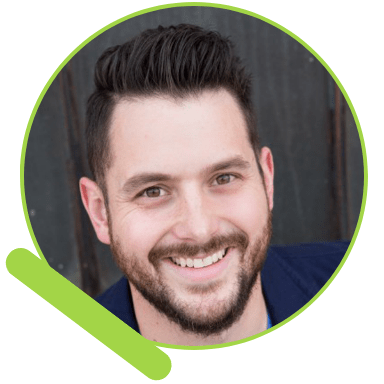 "Introduction to shopping ads "
Kirk is the owner of ZATO, his micro-agency focused solely on Paid Search Advertising, and has been working in Digital Marketing since 2009. He is on the board of the Paid Search Association, and was named one of the Top 25 Most Influential PPCers in the world by PPC Hero from 2016-2020 primarily because of his PPC writing for various industry publications. Pre-COVID, he was an international conference speaker training PPCers on all things Paid Search (especially Shopping Ads) from Seattle to Sydney to London and many places in between. Kirk currently resides in Billings, MT with his wife, 5 children, Trek bikes, Taylor guitar, books, and little sleep.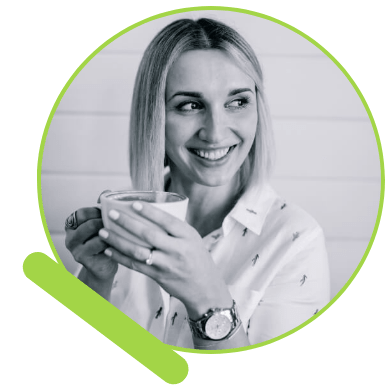 "Controlling the Uncontrollable – Facebook/Instagram Ads, Agency Life, and more."
As someone who lives for connecting people, making the connection between consumers and brands is what Akvile DeFazio, President of AKvertise, a social media advertising agency, does best. As a conversion-driven marketer, she is passionate about helping businesses expand their online visibility and reach their goals via Facebook, Instagram, Twitter, LinkedIn, and Pinterest Ads. Akvile specializes in working with ecommerce brands, mobile apps, events, on-demand services, and musicians.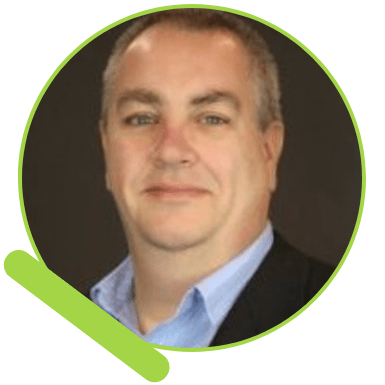 "Domain and SEO: Buying, Selling, & Migrating."
Bill Hartzer is an independent SEO Consultant. He relies on his 20 years of direct Search Engine Optimization experience to provide technical SEO audits of websites, as well as technical link audits and link cleanups of websites. Mr. Hartzer is known worldwide for his research on the topic of search engine optimization and the New gTLD domain names, as well as Dot Brand domain names. He provides research and marketing of white papers and case studies related to the New gTLDs, as well as consulting related to domain migrations. Bill is a frequent speaker and expert discussion panel participant at various search engine marketing and internet marketing conferences and events such as the SMX and the PubCon conferences. He maintains a blog on his website, www.BillHartzer.com, and is the co-founder of the Dallas/Fort Worth Search Engine Marketing Association.

Bonus 4: Diana Richardson
"Building a Social Community"
Talk to Diana about SEO, SEM, Social Media, Digital Marketing strategy or wine — she's done it all…and she loves to talk shop. Diana is the Social Media & Community Manager for the SEO division of SEMRush and has been a digital marketer for over 14 years. Working with businesses of all shapes and sizes, her logistical, rolodex of a brain is ready to customize a strategy, put a plan in place and start rockin' and rollin'. She takes a lot of pride in her extensive digital marketing background which, combined with her theatrical background, makes Diana a terrific educator in the industry.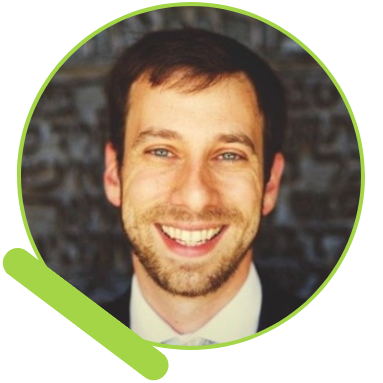 "Building Sustainable SEO"
Eli Schwartz is an SEO expert and consultant with more than a decade of experience driving successful SEO and growth programs for leading B2B and B2C companies. He helps clients like Shutterstock, BlueNile, Quora, Getaround, Mixpanel, and Zendesk build and execute Global SEO strategies that dramatically increase their organic visibility at scale.

4 Proven Templates I use
with my own Clients
Bonus Template: Customer Persona Template: Keyword Research Template: Audience Research Bonus Template: SEO Audit Template



To recap, when you enroll in ODEO you get
11 weeks of in-depth Graduate level content
11 graded challenges
11 weekly quizzes
12 weekly live Q&A sessions
4 Bonus classes
4 Templates for every kind of project
Lifetime access to all classes and recordings
1 high-level graded final project
1 month free access to SEMRush
Exclusive access to a moderated Slack community
If you think you can master a challenging and technical skill set…..
• while scrolling through Instagram on your phone with one eye on the slides.
• without investing 10-12 hours on average each week for 12 weeks
• by skimming the reading materials while listening to Spotify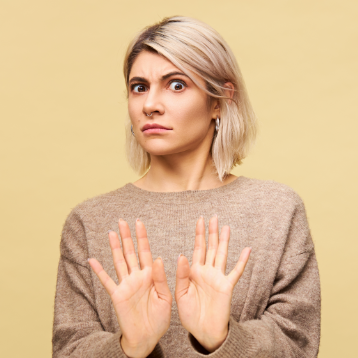 ….Then ODEO is NOT for you.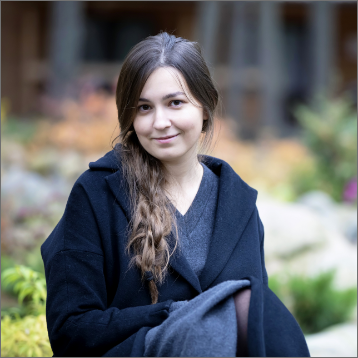 • Are the type of person who thrives on challenging themselves and exploring new ideas
• Are relentlessly curious, intrinsically motivated and willing to
apply your mind
• Are looking for a fun, fulfilling and dynamic skill set which promises you…
1. More money (because you're hard-working and capable)
2. More control over your time (so you can zip over to your
daughter's school party without asking for time off).
3. More potential for growth (because you won't survive
earning the same in 10 years from now).
Then ODEO is perfect for you, and I can't wait to get to know you.
Ready to embark on a meaningful and challenging career as a
digital marketer

?

Next Cohorts Begin

April 30, 2023

Everything you need to get a job as a digital marketer…
11 Modules
11 critiqued and scored challenges
11 graded quizzes
4 Bonus Masterclasses
12 weekly live Q&A with Danny
LIFETIME access to all videos + materials + calls
LIFETIME access to all updates and new materials
Moderated Slack community to get questions answered by experts
4 go-to templates
Peer reviews of your work
Google Search & Analytics certifications
1 month free access to SEMRush Full Suite of Tools
Completion badge, with full completion of challenges
Certification badge, with completion of Final Project
Acadium partnership

VIP - LIMITED TO 10 SLOTS
Everything you need to get a job as a digital marketer – and get impressive results for your clients (or your own business) – right away.
11 Modules
11 critiqued and scored challenges
11 graded quizzes
4 Bonus Masterclasses
12 weekly live Q&A with Danny
LIFETIME access to all videos + materials + calls
LIFETIME access to all updates and new materials
Moderated Slack community to get questions answered by experts
4 go-to templates
Peer reviews of your work
Google Search and Analytics certifications
1 month free access to SEMRush Full Suite of Tools
Completion badge, with full completion of challenges
Certification badge with completion of Final Project
Acadium partnership
VIP Slack Channel with priority response time
Priority access to leads and job opportunities
1 x hour career coaching session with Danny (worth $250)
Detailed resume critique by Danny's team (worth $250)
4 X 1 hour mentorship session to set-up and optimize your first campaigns (worth $1000)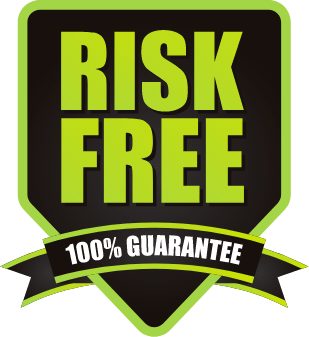 ODEO is a
100% risk-free

investment.
I am so confident in the value of this course that I'm offering a FULL money-back guarantee within 14 days of starting the course.
If you
• Went through all the modules & completed all the challenges to date
• AND still do not feel these skills are relevant to you
Just contact me (Danny Gavin) directly and you'll get 100% of your money back.
No questions asked. No conditions. 
"Danny's course gave me a clear picture of how versatile a marketing skillset can be. The hands-on experience with local businesses built my confidence as a marketing professional and instilled a discipline for creating a product for clients that is consistent and polished. My life has changed immensely since taking his courses. I obtained a job in local government that allows me to work remotely, which has so much value during a pandemic."
Technical Communications Coordinator
"Without his course I maybe would have never dived into the field of SEO. I learned all the basics in this course, which allowed me to build in depth knowledge about online marketing later on."
I've taught myself the basics of digital marketing, and do some
digital marketing in my job already. Am I too advanced?
Many of my students had experience in digital marketing prior to completing my courses. After the courses, they accelerated in their careers (and earnings) due to the confidence they gained and the skills they learned in the course. That's because you cannot compare a person who has picked up pieces of knowledge to someone who knows the comprehensive foundation of the discipline. Even if you are familiar with, and have used, some aspects of digital marketing, the comprehensive and highly technical nature course will enable you to progress rapidly in your career, command a higher salary and carry yourself with confidence.
What if I don't have time to put in the work right now?
You will need a minimum of 10 – 12 hours a week to watch the classes, do the readings and complete the challenges. Mastering this skill set in 15 weeks is an ambitious promise, so without the investment of time, it will remain theoretical (and largely useless).
What if I don't know anything about digital or marketing?
Many of my top students who now hold prestigious positions in the industry never knew a thing about digital or marketing before my class. They had wildly varied backgrounds – including engineers, business students, actuarial scientists, psych majors and healthcare undergrads – but all were:
1.Hard-working and driven.
2.Strong in both creativity and logic
3.Open to learning new things
If you have these three character traits, you will excel in this field (and have a blast doing it).
When will the training take place? What's the course schedule?
Course launches on April 30, 2023 with the final project due by August 16, 2023. You will get a detailed schedule with all meetings and information upon registration. All classes and sessions will be recorded and uploaded for lifetime access. But, to achieve the completion badge, you will need to submit challenges by the required submission date.
But, aren't there other places to learn Digital Marketing?
Isn't the internet flooded with free tutorials?
There are thousands of places where you could learn some aspects of Digital Marketing. But the people who succeed in Digital Marketing (and get paid the big bucks) are those who have a solid foundation of the most up-to-date methods along with practical experience of putting all the pieces together to form a solid strategy. They also have a strong portfolio and the confidence that comes with mastering the technical aspects from the ground up.
What kind of job can I apply for once completing this course? Will anyone really hire me?
Dozens of my students landed jobs before they had completed my courses. That's because you gain a robust portfolio of actual campaigns you've worked on, along with the industry knowledge & broad understanding that sets you apart from the competition. Once you complete the course you will be qualified to:
1. Work as a junior digital marketer in a range of positions.
2. Run the entire digital marketing function for a small business
3. Set up your own freelance business managing digital marketing for several small businesses
I'm on a senior managerial level at my company already. I'd like to learn more about Digital Marketing so I have more control of the strategy. Is this for me?
Absolutely. This course will take you from feeling out of your depth when dealing with your marketing team, ask incisive questions and direct the strategy accordingly. Every single business executive will benefit from a foundational understanding of digital marketing, and will improve your results and impact on the whole. (Your team may learn a thing or two on the way.)
Digital marketing is evolving - every second. Will this information be relevant in the next year or two?
Great question. This is a real-world course, and since the industry is changing all the time, I will be updating the course material on a bi-annual basis. Lifetime access means you get all the updates as they become available (and new bonus classes too).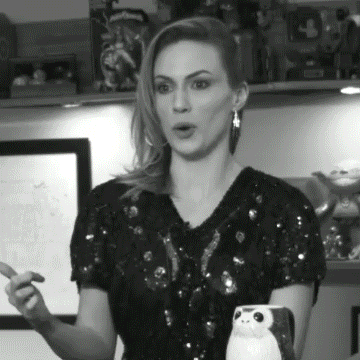 Since this is a Beta launch, I guarantee that you'll never get access to this exact course again for this price (the next cohort will be close to double in price).
There are no guarantees of
a.When I will open up the next cohort
b. What will the price will be (probably close to double the current pricing)
Content-only courses of this level begin at around $2000 – without the support, accountability community or personal mentorship. University level courses begin at $5000 minimum, and take on average 9 months to complete.
So if you want high-level Digital Marketing skills QUICKLY – you want to sign up. Now. 
Remember: There is a 100% guarantee for a full refund within 14 days. So there is no risk.
Of course, you could carry on...

• Googling new jobs while you finish your mind-numbing report
• Dreading going to work and scrolling through Instagram dreaming of your next vacation
• Throwing your unique talents down the drain and counting the seconds till the weekend
Get the confidence, skills and expertise to launch your career in the most creative & analytical industry out there!